Who we are?
Manufacturing and service company PIOMET Piotr Adamczyk started its activities in 1998 as a small company involved in the processing of various metal parts to order. Over time, the company established cooperation with many contractors and began to perform comprehensive services for the mining industry, as well as for the food and automotive industry.
In 2006, it already had many regular customers, and in parallel with the acquisition of sales markets, the owner extended the scope of work and the range of products and services, which allowed for the export of products to European markets.
In 2007, the owner built new production halls, where he moved his previous activity which affected the further development of the company and increasing production capabilities.
Gradually, the company expanded the machinery park, equipped with CNC machining centers and conventional machine tools, thus ensuring high quality of products and services.
Currently, the company specializes in comprehensive services for the following industries: mining, railways, automotive and other – according to the individual wishes of the customer.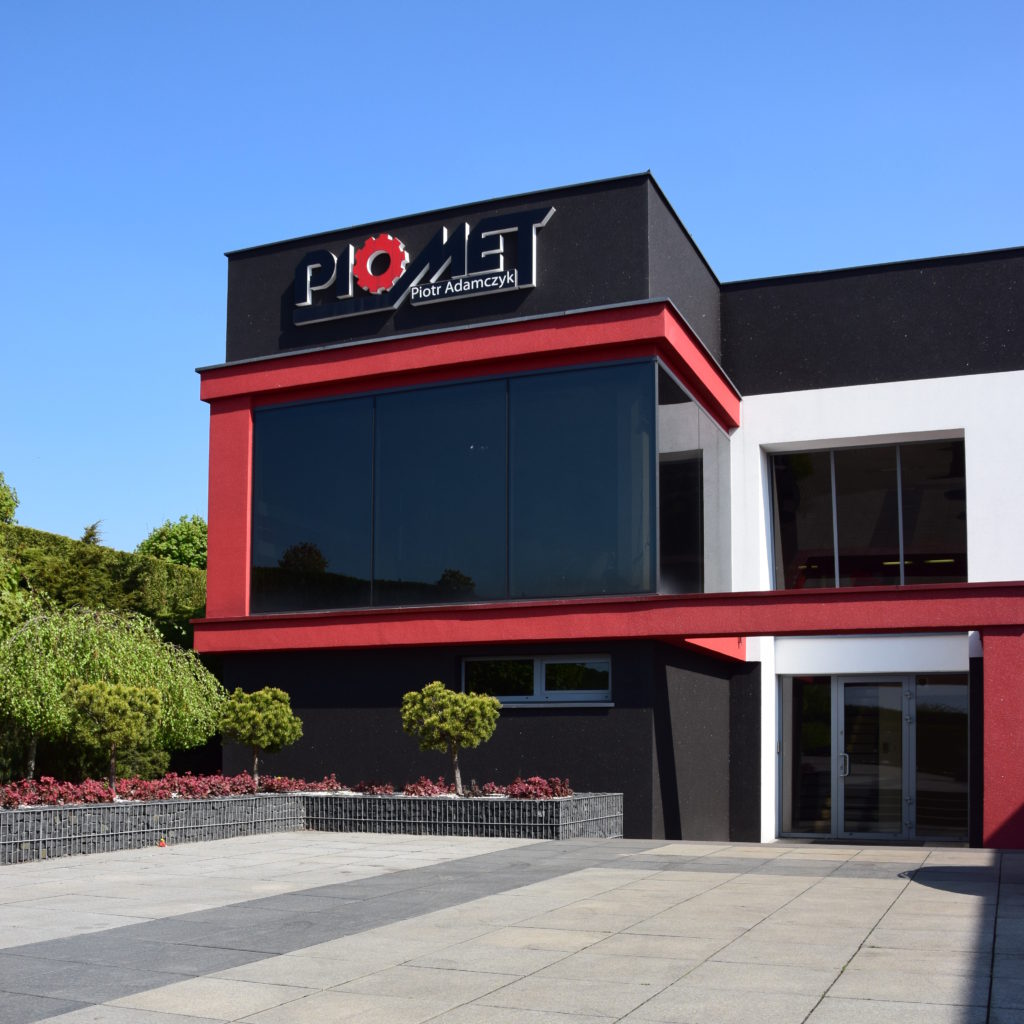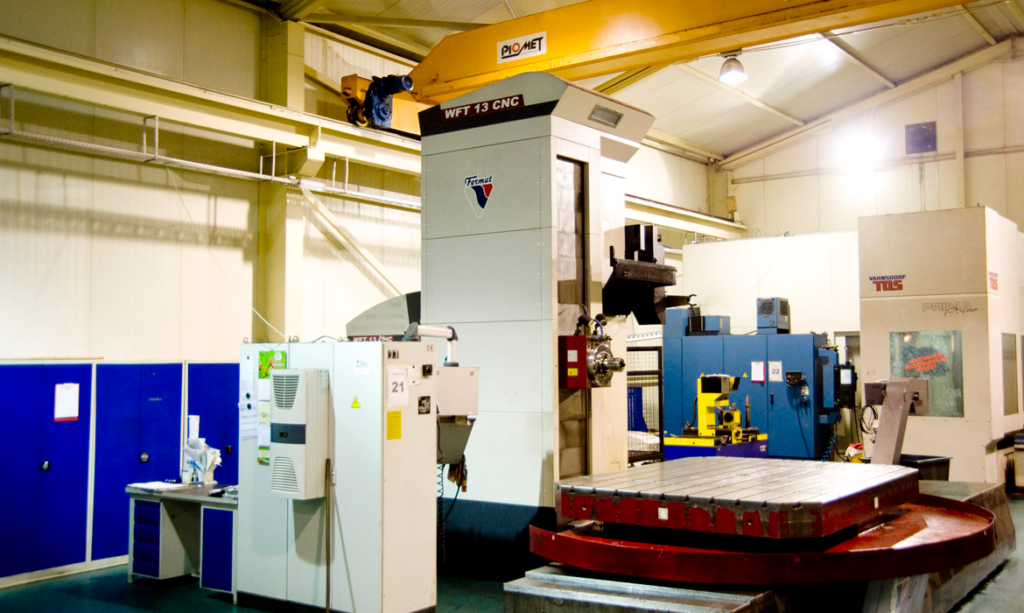 What characterizes us
Realization of the most demanding orders
PPU PIOMET Piotr Adamczyk deals with comprehensive metal processing from concept to complete implementation.
Experienced and qualified employees
in combination with a suitably prepared technological process in the field of designing and precision machining, it allows the implementation of projects for various industries depending on the individual needs of customers.
A modern machinery park
allows you to effectively compete with other companies in this industry and makes PPU PIOMET Piotr Adamczyk have a reputation as a reliable and reliable partner and manufacturer of devices and components and subassemblies used in industry.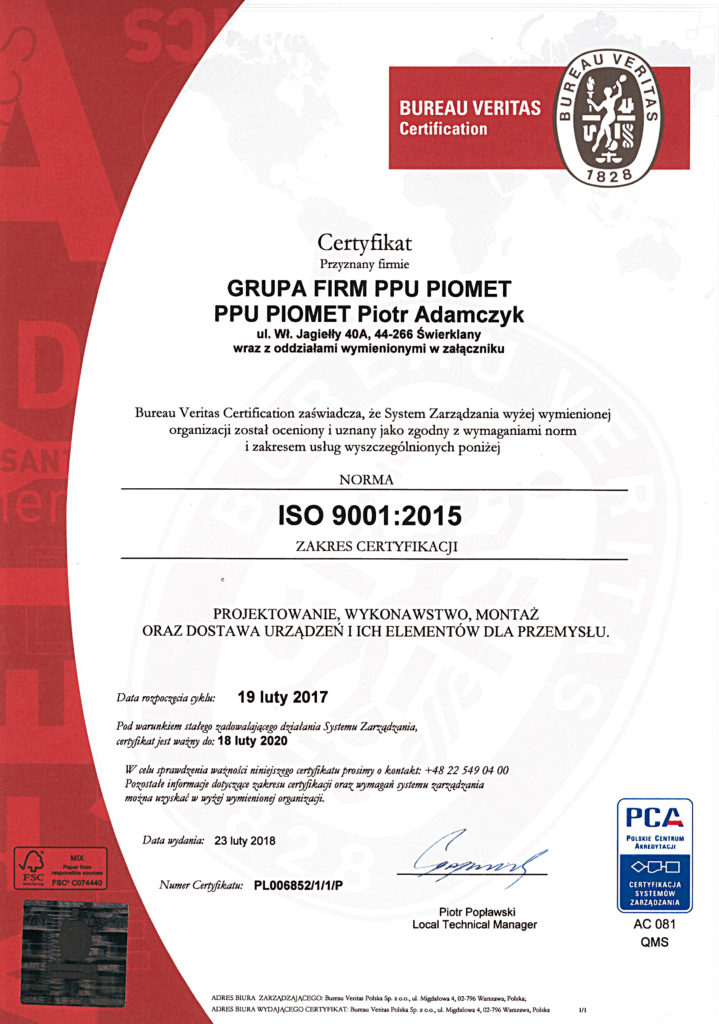 Quality
In order to meet the needs of the company's clients at the highest level of PPU PIOMET, Piotr Adamczyk has implemented a quality management system based on the ISO 9001: 2015 standard.
The scope of certification is:
Design, construction, assembly and delivery of devices and their components for the industry.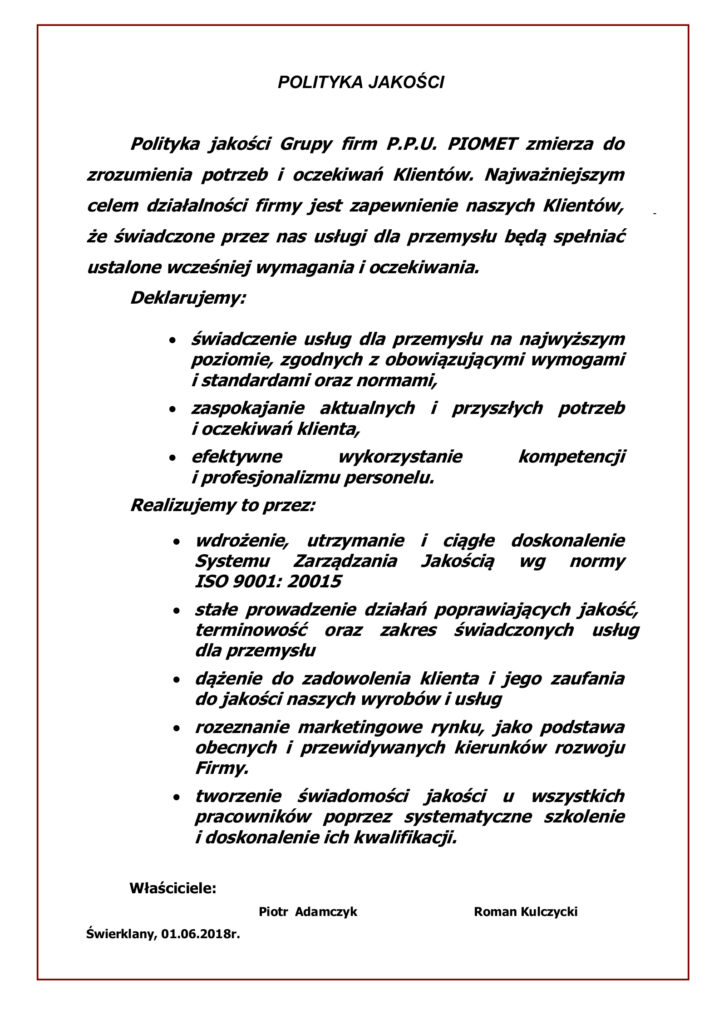 Business profile
We provide our services to various industries, and we adapt our activities and direction of development to key clients.
Mining industry
Railways industry
Automotive industry
Metallurgy industry
Other